Lierne National Park has a diverse flora and fauna, virtually untouched nature and offers wonderful outdoor recreational experiences.
Nature-based experiences in Lierne
Lierne National Park is renowned for its good hunting and fishing. Most of the mountain lakes have populations of trout and some have char too. The national park is also a great place for mushroom and berry picking.
The area is ideal for hiking, although there are few marked trails or open cabins. The local mountain board, Lierne fjellstyre, rents cabins in and near the national park. It also rents boats in several lakes.
Diverse animal life in the national park
The park is dominated by a large mountainous region rich in bears, wolverines and lynx, while the rare Arctic fox also lives in the area.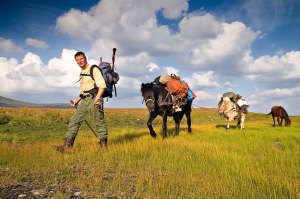 Traces from the Ice Age
Lierne is also an interesting area from a geological perspective. Much of the land was formed during the last Ice Age, featuring several rare landscape forms such as ribbed moraines, drumlins, eskers and meltwater channels.
Read more about Lierne National Park.
Read the article on UT.no about what you can experience in the wilderness in Lierne.