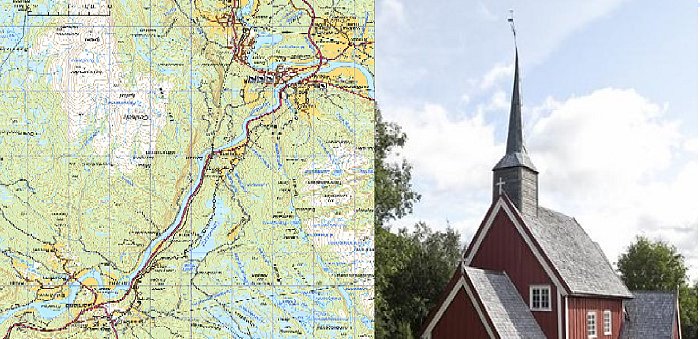 St.Olav Ways: The North Path

The St.Olav Ways is the common name for all the Pilgrim Paths in Norway and Sweden, connected to St.Olav's life and work. All the paths lead to Trondheim, St.Olavs Cathedral (Nidaros Cathedral), Stiklestad and other places considered holy in the catholic tradition.
St.Olav Ways
St.Olav was a Viking chief  and the first king of all of Norway, canonised one year after his death at the Battle at Stiklestad.  He also introduced Christian legislation and faith to the country during his reign. The North Path runs from Grong in the Namdalen region to historical Stiklestad in the Innherred region.
The North Path in Grong
The North Path from Grong to Stiklestad is the northernmost pilgrim path in Norway. It is the only southbound path, and is connected to St.Olav and catholic tradition through churches, artwork and cultural heritage sites.
The path starts (or ends, if you start in the south) by Gløshaugkirka (church)  in Grong. Gløshaugkirka was built in 1689 and is one of few preserved wooden churches from the 1600s in the north of Trøndelag. Some logs and timber from the church was dated back to 1155. The Stave church which stood in the same place as the current church is therefore dated back to the 1100s. Paintings of St.Olav, St.Augustin, St.Sunniva and St.Katarina from ca. 1510-1520 are visible on the triptych of the alter. Namdalen was a part of Nidaros diocese.
The path passes residential areas, cultural heritage sites, burial mounds, through beautiful nature and forest areas. It passes Grong Church, built in 1877. From Grong center the pilgrim paths follows Sanddøla river and passes the beautiful Tømmeråsfossen waterfall. From Grong the path goes south through Snåsa and Steinkjer, towards Stiklestad.
Read more about the Pilgrim Paths aka the St.Olav Ways and download map of the North Path here.

You might also like