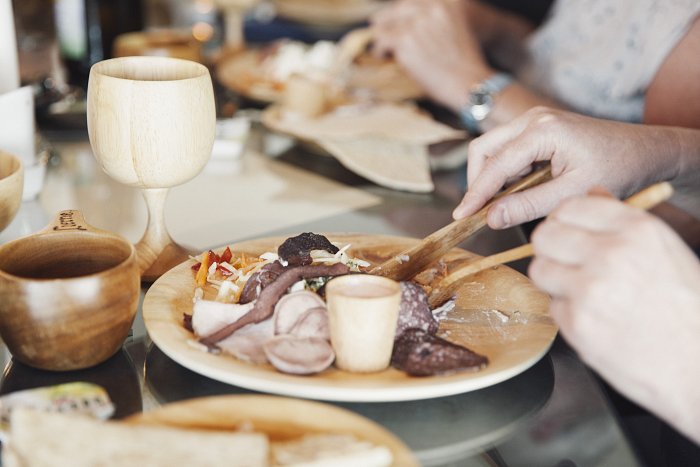 Local food – a taste of culinary tradition


Namdalen has a lot of local food, flavours, produce and culinary treasures for you to discover. Trøndelag is food region nr.1 in Norway, and there are many of food traditions in Namdalen that you can try.
Here you can taste Atlantic cod and pollock from the Namdal coast, salmon from the amazing salmon rivers, and mushrooms and berries from the forests. Grain from local fields means that in Namdalen you can find both flour, bread, and beer from local breweries made only with local ingredients. There is also a lot of reindeer herding and hunting in the region, and it is therefore common to find both reindeer meat, moose, deer and small game in grocery stores. Visit Namdalen and taste local food from the sea, from the fields, and from the vast wilderness areas of the region.
Elvekanten Ysteri  – Cheese
Elvekanten Ysteri in Namsskogan produces cheese with ingredients from the nearby farms, including the award-winning «Gammel-Erik» cheese. You can buy cheese from Elvekanten Ysteri in several shops and markets around the region. Cheese from Elvekanten Ysteri is perfect as gifts, with crackers and wine, or on pizza!
Buøy Gård – Ecological Farm Restaurant
Buøy Gård is an ecological farm and restaurant which grows a lot of their own produce. What they don't produce themselves, they get from neighbouring farms. Eating at Buøy Gård is a culinary experience out of the ordinary, with very high quality. Visit their website here.
Jørem – Bread and baked goods
Jørem mills their very own flour, often with traditional grains such dinkel-wheat. Namdalsbryggeriet (brewery) is also located at Jørem. You can buy freshly baked bread, and products from the brewery, in their farm shop. Find more information on their website.
LiVerten – A taste of Lierne
LiVerten is a restaurant with its own bakery, and a shop with local food products. At LiVerten Servicestasjon you can try fast-food with a local twist. Try a Li-bab with reindeer meat and mashed potatoes, a moose burger or other local staples. In the restaurant they serve traditional food from Namdalen and Trøndelag. At LiVerten you can buy meat products, chocolate, beer, cheese and more.
Skorovasmat
Skorovasmat is located in the mountain village of Skorovas. The famous Sjenkestova with its 500 types of beer is a real "aledorado". They smoke meat in a sauna, the traditional Namdalen way. On request they serve their smoked meat products in Sjenkestova, and you can find their products at markets in the region.
Skei Kulturtun – Lekamøya Spiseri
On the beautiful geology island of Leka you will find Lekamøya Spiseri. They are open all summer long, serving fusion dishes with local produce and international inspiration. They accept bookings from groups outside the summer season.
Local food in Markets
Throughout the year there are quite a few markets in Namdalen. First and foremost in the summer, but also in the winter and autumn. In the markets you will find local producers from all over the region. Visit our "What's on" page or our Facebook page for more information about upcoming events.

You might also like