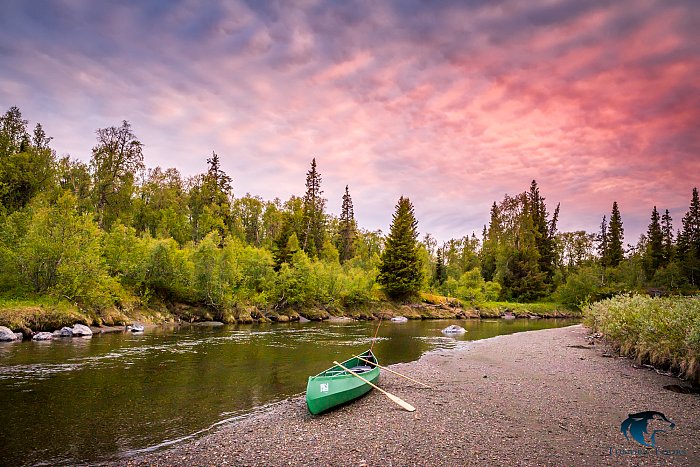 Nature safari in Namdalen

Namdalen is a varied region with beautiful nature and many opportunities for close encounters with animals and wildlife. Join a nature safari, learn about aquaculture, try an exciting coastal rafting tour or visit Namsskogan Familiepark for unforgettable experiences for the whole family.
Eagle Safari in Flatanger
Are you a photo enthusiast? Norway Nature can take you into the Flatanger archipelago for a close encounter with the majestic White-tailed eagle. They also offer a range of other bird safari tours and photo tours, all year around.
Beaver safari with canoe
Tundra Tours offs groups a unique opportunity to experience the shy beaver up close on their «beaver safari with canoe» tour. The nature safari tour includes guide, canoe, life jackets, and is well suited for families. You can also stay overnight in a lavvo as a part of the tour. Read more here.
SalmoNor Visningssenter
SalmoNor cooperates with Kystmuseet Norveg to tell the story of Norwegian aquaculture and fish farming industry. You can visit their aquaculture exhibit all year around. In the summer season you can also go on boat tours out to the fish farm. If you want, you can also combine a tour to the fish farm with a tour to the historical fishing village Sør-Gjæslingan.
Namsskogan Familiepark
I Namsskogan Familiepark you and your loved ones can experience Norway's largest collection of Nordic animals. In the summer you can be a «animal handler for a day», meet the Arctic fox, try their ZIP-line and visit the climbing park. Horse-riding, fishing and many other activities is also available. Find more information on familieparken.no
Lierne Nasjonalparksenter
In Lierne national park there are vast wilderness areas with a varied flora and fauna. If you like multi-day trekking, fishing and natural adventures, Lierne National park is the place for you. Lierne Nasjonalparksenter can give you tips on how to plan your very own wilderness adventure.
Bjørøya Aquacenter
Bjørøya Aquacenter in Flatanger offers tours for the whole family out to the fish farms. Learn about aquaculture and join in on a RIB boat for an exciting experience. Read more here.
Nærøysund Rafting
On the coast of Namdal Nærøysund Rafting offers fast speedy rafting tours in a very scenic environment.  You can find more information here.

You might also like