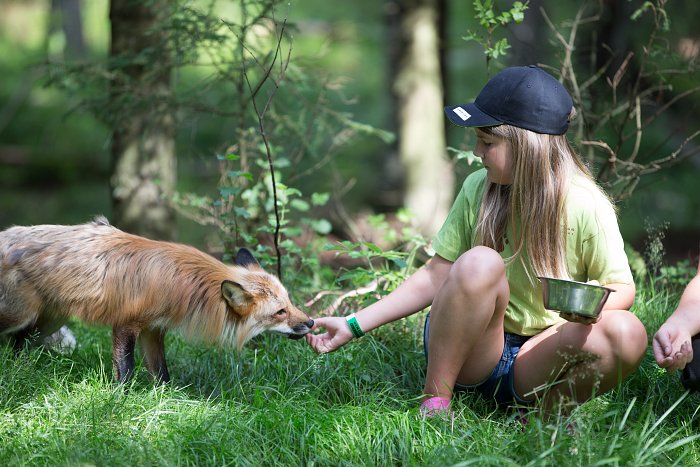 Namsskogan Family Park

The youngest visitors to Namsskogan family park can enjoy close-up experiences with the animals at the Children's Animal Park. At the predator centre, the predator guides answer questions while feeding the animals. In the activity area, the whole family can enjoy fun and exciting activities. And not least, experience the magical witch Rebella Hex in her cave theatre throughout July. To top off the experience you can stay overnight in a wooden lavvu.
Activity section for the whole family
This is the place where Mum and the youngest boy can ride the unique toboggan, the Alpine racer, together and the 12-year-old can throw herself off the tower and take the 350 m long zip-line. Does Dad dare to follow?
Canoeing on Lake Tronestjønna or racing in the bumper boats is exciting for everyone. When the adults need a rest, they can sit on a bench and relax while the children keep playing.
Art and crafts
The park has a special focus on art and craft. In the peak season, a glassblower, blacksmith and a potter are here to demonstrate their crafts. In the park's shop, as well as candle maker Løiten Lys' gift shop, you will find much to tempt you.
Waking up with the predators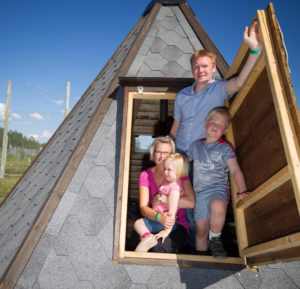 Guests can stay overnight in five exclusive wooden tents right beside the bears and wolverines. Sleeping on reindeer skins, you can be lucky enough to wake up from the wolves howling. If you look out the window, you may see the beer standing 5 m away looking at you. Each lavvu can sleep a whole family.
Reflecting the area's wildlife
Namsskogan Family Park is the wildlife park in Norway that has the most species of Nordic animals. You can experience close-up encounters with species including otters, red deer and elk. The four large predators (bears, lynx, wolverines and wolves) wander around in a separate section. The park is located in the core area for bears, wolverines and lynx. There is generally a lot of wildlife in the area and the park reflects the surrounding area by offering experiences and knowledge related to the wild animals that live here.
Read more about what you can experience at Namsskogan Family Park.

You might also like