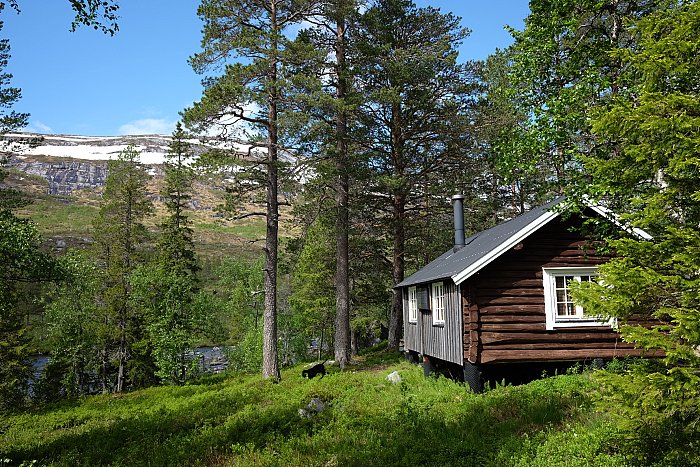 Outdoor recreation and wilderness living in Namsskogan

Namsskogan is situated in the northernmost part of Namdalen, bordering Nordland County and Northern Norway.  A part of Børgefjell National Park is located in Namsskogan. Around half the outlying area in the municipality is public land, most of which is state-owned public lands. The area is perfect for those looking for outdoor recreation. hiking, hunting and fishing in wilderness areas.
The mountain management board Namsskogan Fjellstyre manages most of these areas in Namsskogan. They manage rights of use such as grazing areas, mountain farms, big game hunting, small game hunting and fishing in the state-owned common lands. The mountain board has 17 rental cabins as well as a large number of rowboats, some of which are located near the road and others up in the mountains. Some of the cabins have electricity, others are true wilderness cabins where you can stay all year around, during longer hikes or ski trips. You can also use the cabins as your base on fishin gtrips, or spend a weekend on a digital detox in nature. There are many opportunities to go hiking in Namsskogan.
Small game hunting
Namsskogan fjellstyre manages administers small game hunting on an area covering approx. 58,500 hectares.  Visit inatur for maps and information about hunting licences. To apply for hunting during regulated periods, please visit the mountain board's website. You can also get hunting licences for big game hunting.
Fishing
Namsskogan contains more than 800 lakes/small forest lakes and 35 rivers, which offer good fishing opportunities. Trout is the most common fish species, but some of the lakes also contain populations of char.
The river Namsen has its source north-east of the Namsskogan and runs more than 70 km through the entire municipality. The river has an excellent trout population, and fish of 1-3 kg are not uncommon.
It is not a salmon river in Namsskogan, but there is a relict species of salmon, namely the Namsblanken. It seldom weighs more than 2-3 hectograms, but offers good resistance when you get it on the hook.
These are two fishing licences to choose between, the Namsskogan licence and the Børgefjell licence.

You might also like