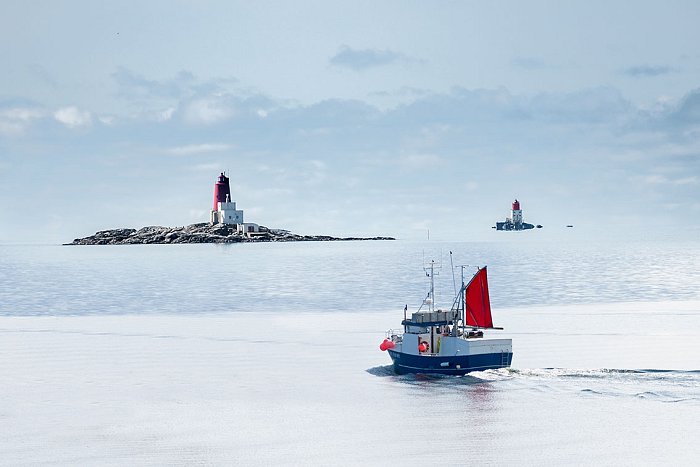 Experience Sør-Gjæslingan

The fishing village Sør-Gjæslingan
The fishing village consists of a group of around 80 islands, islets and skerries in the open sea of Folla approx. 50 km south-west of Rørvik. This was once one of the largest and most important fishing villages south of Lofoten, and attracted several thousand fishermen during peak periods of the fishing season. In October 2010, Sør-Gjæslingan was listed as a cultural heritage site of national importance by the King.
Listed holiday paradise
The listed fishing station may be regarded as a holiday paradise. It's a place where you can really relax in authentic surroundings, stay in a charming rorbu (fisherman's cottage) or the proprietor's residence, and explore life as it was in the time the annual Lofoten fishery was the primary industry for the people of the Namdal coast.
A number of cultural relics dating back to the fishing village's golden days are still preserved, which add character and charm. These include fish drying racks, from the time when the memorials of the once fishing village was actively is still preserved, and helps to give the weather character and charm; fish drying racks, fish landing station, proprietor's residence complete with office and store, the fishermen's homes, saltery and cod liver oil factory.
Sør-Gjæslingan is accessible by scheduled express boat services from both Namsos and Rørvik.
Kystmuseet Rørvik, with Norveg – the centre of coastal culture and industry, which is part of the regional museum Museet Midt, is now responsible for much of Sør-Gjæslingan. Visit 's website for more information about the various experiences you can enjoy on a rorbu holiday to Sør-Gjæslingan.

You might also like