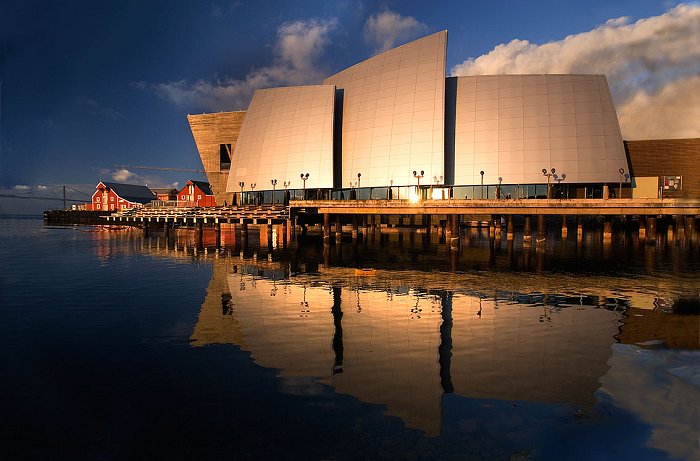 Lighthouse for coastal culture

Visitors to the Coastal Museum of Nord-Trøndelag/Norveg will discover a range of exciting offers, both at the Norveg Centre of Coastal Culture and Industry and at the other historical buildings in the centre of Rørvik, including the old trading place Berggården.
For those wanting to learn more about Berggården and the history of Rørvik, it's worth joining maid Pernille Olsdatter Buøy or the one and only Johan Berg for the storytelling show Å friste tilværelsen (To tempt existence). Suddenly you find yourself transported 100 years back in time and you will get an insight into life in and around the trading place Berggården and the emergence of Rørvik as a hub in the centre of the sea route. The manuscript was written and produced by Kjellrun Åsgard, who is well known in theatrical circles in Vikna. The museum also offers traditional guiding every day during the summer season.
Norveg's permanent exhibition, "Landet med det store havet utenfor" (The land with the open sea beyond), traces the major milestones in our 10,000-year history, from when the first humans followed the ice northwards through to today's challenges as one of the world's leading fishing nations. Norveg's exhibition includes a land-based viewing centre for aquaculture covering the life of a farmed salmon from the time the egg hatches, via life in the sea cage until the time it appears on the chef's table. If you visit in July, you can combine your visit to the viewing centre with a boat trip out to the fish farm on Tuesdays and Thursdays.
Norveg, the centre of costal culture and industry
Guests can be better acquainted with the old fishing traditions on a day trip to the listed fishing village of Sør-Gjæslingan. It's also possible to stay overnight in a historic rorbu (fisherman's cottage). A new feature this year is the day trips each Thursday in July from the floating jetty at Norveg. This trip also includes a visit to the fish farm at Abelvær. At Restaurant Norveg guests can savour delicious dishes based on local ingredients. The restaurant serves both lunch and dinner.
Sør-Gjæslingan
Opening hours:
Nord-Trøndelag Coastal Museum /Norveg, tourist information and exhibitions:
Off-season: Tuesday – Saturday 11 a.m. – 3 p.m. Sunday and Monday closed. Open on request.
Summer season (June 23 – Aug. 1): open daily 10 a.m. – 5 p.m.
Historic guided walk (starting at Norveg):
June 23 – Aug. 1: daily at 12 noon
Storytelling show Å friste tilværelsen (To tempt existence):
June 23 – Aug. 1: daily at 3 p.m.
Restaurant Norveg:
June 22 – Aug. 4: open daily 10 a.m. – 9 p.m.
For extended opening hours, please visit: www.kystmuseetnorveg.no
Norveg's floating jetty is the starting point for trips to the salmon farm/viewing centre during July. Trips depart on Tuesdays and Fridays at 1 p.m. and on Thursdays, which includes a visit to Sør-Gjæslingan, at 11 a.m.

You might also like