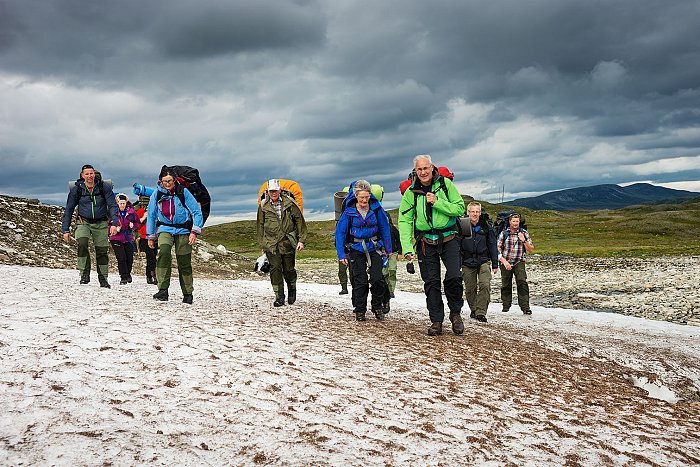 Børgefjell National Park

Børgefjell National Park – varied nature
In the east, you will find expansive and rounded summits, in the west high peaks and deep valleys with glacial cirques and mountain lakes, while in the south there are several stretches of wild rapids and beautiful waterfalls. There are virtually no marked hiking trails.
Arctic fox and animal life
Today Børgefjell National Park is home to the only population of Arctic fox in Norway capable of survival. The Arctic fox was protected in 1930, but the population has not increased, and there are now only a few animals left. If you are lucky enough to see one, you will know you have been on a unique nature-based experience. Wolverines, lynx and bears can also be found in the national park. The elk is protected from hunting in parts of Børgefjell National Park, which is also a grazing from a large reindeer population
The bird life is particularly diverse in the area around the river Simskardelva and Tiplingan, with species including the golden eagles, rough-legged buzzard and snowy owl.
Hunting and fishing
Børgefjell is renowned for a multitude of lakes with abundant fish stocks, the largest of which are Simskardvatnet and Orvatnet. The rivers Namsen and Vefsna both originate in the Børgefjell National Park. Hunting opportunities are dominated by grouse and small game hunting.
Photo: Steinar Johansen
Demanding national park
The varied and at times alpine terrain means the weather changes often in Børgefjell, and heavy precipitation and harsh winters are common. Consequently, people planning to hike here require suitable clothing for various conditions.
The alpine landscape means that Børgefjell to a greater extent than many other national parks is best suited for experienced mountain hikers. There is also little in the way of accommodation, although there are a few exceptions.
Read more about nature-based experiences in Børgefjell National Park.

You might also like